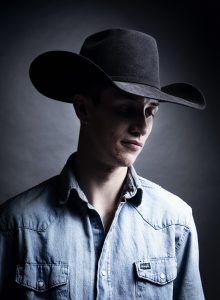 PBR Dawson Creek Presented by Lyons Production Services in December 2019 kicked off the 2020 PBR Season. After going 2 for 2 at Dawson Creek, BC, Logan Beiver (Claresholm, AB) clinched the No.1 spot in the standings. Logan rode his re-ride bull, a bull named Diesel from Vold Rodeo for a 85.5 points. In the short go Logan matched up against another Vold bull named Big City Nights where he scored the highest mark of the night with a 89.5.
Logan battled for his win against some big competition with the some of the big guns from south of the 49th including Thor Hoefer from Priest River, Idaho, who also went 2 for 2 on Outlaw Buckers Rodeo Corp. Dust Off (86 points) and Avenged Sevenfold (85.5 points).
Third place of the night went to Dakota Louis, from Browning, Montana – who was the only other rider to cover both of his bulls. Louis covered an Outlaw Buckers Rodeo Corp bull named Wing Man for 82 points with a great performance in the final on Top Hat (Outlaw Buckers Rodeo Corp) with a 87.5.
A gnarly show with lots of action leaving the crowds excited for the ALPHA BULL EVENT Dawson Creek 2020.